"YOU Guys are Great!" -Nancy (Glen Burnie, mD)
About BJ Carpet Care...

BJ Carpet Care is owned and operated by Joe Thompson. Joe has over 20 years of carpet cleaning experience and is a licensed Bane-Clene® Operator. Joe was the company manager of a Baltimore-based carpet cleaning company for several years before branching out and starting BJ Carpet. During that time period, Joe formed and managed a team of technicians that saw many profitable years including one year where over one million dollars of work was completed.

Joe's son Brian partners with him on a daily basis to provide expert service to our customers. Brian was one of the technicians on the team that Joe managed where over one million dollars of work was completed.

Whether you have pet problems, food stains, a soiled sofa, or simply evidence of a house that is lived in, you can trust Joe, Brian and BJ Carpet to provide you with quality service, each and every time.

Call or email now to set up an appointment to bring life back to your carpets and upholstery.
Powered by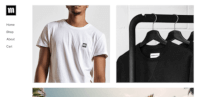 Create your own unique website with customizable templates.